Santorini Flying Dress 2023: The Best Guide
Are you planning a Santorini vacation and want to do a flying dress photoshoot?
When I was planning my trip to Greece, there was one thing I knew I had to do: a Santorini flying dress photoshoot.
The pictures of the long, colorful dresses swaying in the wind always caught my eye. Because of the one-of-a-kind backdrops in Santorini, the photoshoots look like they are taken right out of a magazine.
Unfortunately, I had no idea how to plan for it. So here is some information to help with how to book, what to wear, and the costs for the photoshoot. Get ready to look like a Greek goddess!
---
How Does the Santorini Flying Dress Work?
You might be curious as to how a flying dress shot is taken. The photo shoot includes a dress with a long train, a photographer, and an assistant.
The dress must be made of lightweight material, such as silk, to be suspended in the air. To capture the essence of the surrounding landscape, the photoshoots are done outside with stunning backgrounds.
To achieve the "flying" motion, an assistant helps the photographer by lifting the dress for the action shot. This makes the picture look like the dress was blowing in the wind. That's all there is to it!
---
How Much is the Flying Dress in Santorini?
Once I started researching, I was surprised at some of the photo shoot and dress rental costs. Depending on where and what you choose to book, the prices can be a bit expensive; however, there are also affordable options!
Total prices for the flying dress photoshoot can range from around 130 euros to over 600 euros.
Photographer, Dress Rental, and Assistant
Several factors can affect the price that may or may not be included. This involves the photographer, the dress rental if you do not bring your own, and the assistant who lifts the dress for the action shot.
The photographer alone will be around 130 euros to 400 euros. If you need one, the dress rental will be anywhere from an additional 100 euros to 300 euros.
The assistant can range from 25 euros to 50 euros if it's not included in the price. That said, be sure to discuss this with your photographer ahead of your photoshoot.
Additional Costs
In addition, you may have to consider how long the photo session is, image retouches, and a hair and makeup stylist if you choose to have them.
While this can add up, the costs will be worth every penny. The beauty of Santorini makes it one of the most sought-after locations in Greece. In return, you will feel like a model for every minute of the photoshoot!
👉TRAVEL TIP: Renting a dress is the most popular option. It will save you room in your suitcase. Also, it's the best recommendation if you don't plan on using the dress again.
---
Where to Find a Santorini Flying Dress Photographer
Santorini is one of the best-known and most visited Greek islands. For this reason, you will want to book your photographer well in advance! Finding a flying dress photographer and booking a session online is easy.
To help you with your search, here are a few of my recommendations:
Viator
Viator is an excellent way to find affordable photo shoots. The prices will vary based on the photographer, but the range is between 230 euros and over 500 euros. Prices will be different based on what is included in each package.
The variety of photographers on the platform will allow you to create a personal experience and be flexible with your budget. This is how I chose to book my flying dress photoshoot.
For all booking options, be sure to plan in advance.
➡️This is where I recommend viewing even more options for the flying dress photoshoot!
Airbnb
In addition to Viator, Airbnb is a great way to find affordable photographers. In the Airbnb Experiences section, you can choose from many photographers for the photo shoot. Prices vary from 130 euros to over 600 euros.
To help decide who to book, it will be essential to note what is included in the deal. This includes but is not limited to the photo shoot length, dress rental price, and speed of receiving your photos.
---
What Should I Wear to a Santorini Photoshoot?
Once you've made your reservation, it's time to prepare for what to wear to the photo shoot. In general, you won't need to wear much due to the dress being the shining moment.
Undergarments
Your photographer will most likely suggest that a bra is not worn under the dress. The reason for this is how the bra may interfere with the fitting and style of the dress. Nipple covers are fine to wear.
In the case that you do not feel comfortable with not wearing a bra, you should bring this up with your photographer. Your photographer should be able to find a closed-back or more modest solution for you.
As for underwear, it's best to wear a nude set of panties. Some dresses' fabric may be sheer, preventing the colors from clashing.
No Shoes
Flying dress photos turn out the best when you are barefoot. Trust me; this is not the time to wear your favorite pair of heels.
The pebble stone streets and uneven surfaces you may walk on, like rooftops, can be uncomfortable. This comes from someone who took a nice fall on their first night in Fira.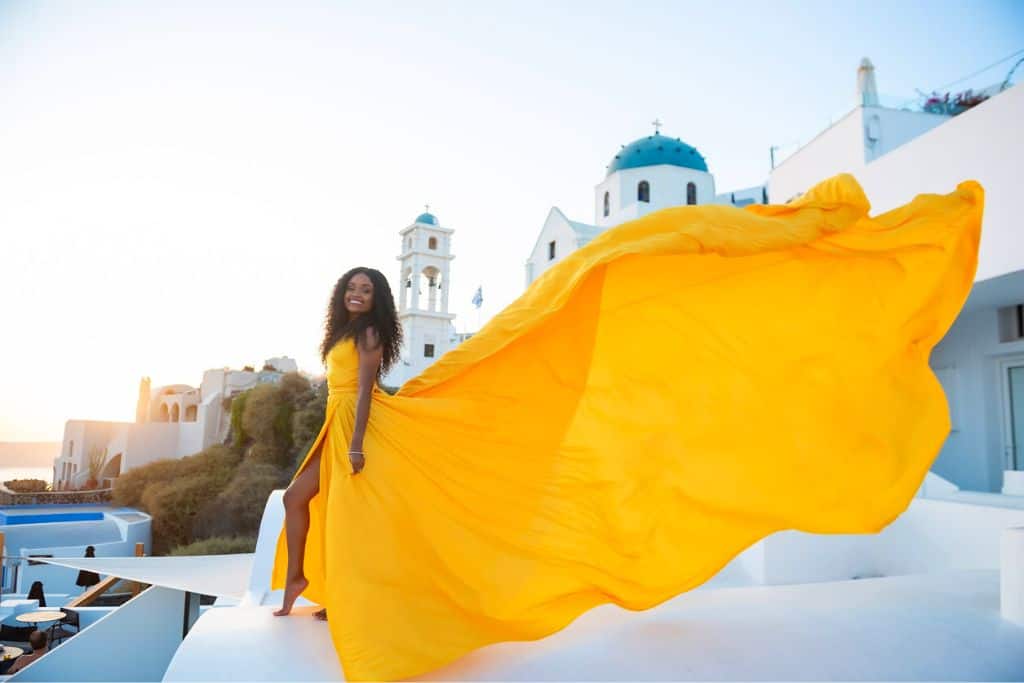 However, if you insist on wearing shoes, I suggest that you at least wear comfortable shoes when you're walking, such as sandals. If you go barefoot, it's best to bring an easy shoe to slip on when walking to different locations.
👉TRAVEL TIP: If you want pictures in another outfit, make sure that you notify your photographer ahead of time. You should both be as prepared as possible!
Accessories
Feel free to wear jewelry to add a personal touch to your photo shoot! Most keep it simple with gold or silver rings, bracelets, or necklaces.
For my photo shoot, I wore a couple of bracelets. Just be careful not to take too much attention away from the dress.
However, even with no accessories, the pictures will still be fantastic as you and the dress are the centers of attention!
---
Best Time of the Day for Flying Dress Photos
To capture the best photos, the best time to book your flying dress photo shoot is morning or evening.
Choosing a time in the morning will give you the benefit of the sunrise and higher contrasted pictures. Morning time slots will have fewer crowds, allowing you to even capture pictures in Oia if you wish to.
It is best to avoid booking between 12:00-14:00 as this is the busiest and hottest time of the day and the brightest lighting. This can make it a waiting game for the optimal locations and make it hard to keep your eyes open without squinting.
Conversely, the evening will provide you with the advantages of the "Golden Hour." Sunset photo shoots benefit from soft and warm light that diffuses to make your photos gorgeous. Additionally, the sun will rest better on your face and create an orange tone on the buildings, an incredible sight.
Depending on how long your photo shoot is, sunset photos are best when booked from 14:00 until the last hour of sunlight.
---
Flying Dress Photo Shoot Locations
There are three central locations for the flying dress photo shoot: Imerovigli, Oia, and Fira. To help you with your choice, here are some insights on each location.
Imerovigli
If you have seen Santorini flying dress pictures before, there's a high chance they were taken here. The picturesque village of Imerovigli is one of the best choices for photo shoots. This location is home to some of the top views of Santorini: the volcano, sunsets, and blue dome churches.
Together with the scenery, Imerovigli is not as crowded as Oia. This makes it the preferred choice for sunset shoots.
Oia
This is likely the location where you have seen postcards of Santorini. Oia is picture-perfect at every corner, surrounded by whitewashed houses and home to the Three Blue Domes.
Since Oia is the most popular location to watch the sunset, booking pictures in the morning is best. Do not underestimate the crowds here for the sunset, even in the shoulder season months!
Fira
Last but not least is Santorini's capital, Fira. Fira is another option to escape the crowds of Oia. It also offers views of whitewashed houses along the caldera and the volcano.
There are three great places to take pictures: the Three Bells of Fira, the Cathedral of Saint John the Baptist, and the Catholic Church of Saint Stylianos. Fira is perfect for morning and afternoon photo shoots.
---
How to Make a Flying Dress
For even more cost savings, making your own dress is another option! The benefit of this will be that you can bring the dress to different destinations, preventing the need to rent a dress each time.
Many DIY tutorials detail how you can make your own flying dress. The best fabrics will be glossy and light materials, such as satin.
---
To Sum Up: Santorini Flying Dress Guide
Santorini flying dress photo shoots are one of those things that can happen once in a lifetime. Given these points, you do not want to miss this opportunity! I hope that my guide helps you live out your real-life fairy tale.
This photoshoot is the perfect choice for anyone looking to capture the essence of the Greek island's stunning landscapes. Moreover, this is sure to be one of the most memorable moments during your time in Santorini.
Even if Santorini isn't on your Greece vacation itinerary, other islands like Mykonos also offer flying dress photoshoots!
If you need more advice on Greece, then check out this post.
---